Dr. Laith Jazrawi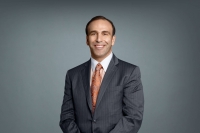 Work Location(s)
About Dr. Laith Jazrawi

Laith M. Jazrawi, MD is chief of the sports medicine division at NYU Langone Health . Brooklyn born and raised, Dr. Jazrawi is a product of the Mount Sinai School of Medicine and NYU-Hospital for Joint Diseases residency. He completed the prestigious American Sports Medicine Institute sports medicine fellowship with Dr. James Andrews in 2002. As an academic sports medicine specialist he has contributed greatly to both the clinical and research arenas in order to improve patient outcomes in the surgical management of cartilage injuries. Additionally, Dr. Jazrawi has made education a top priority, giving numerous lectures and acting as director of many continuing medical education courses over the years. Dr. Jazrawi is the team physician for NYU athletics and Long Island University athletics. Dr. Jazrawi is also heard on the Sports Medicine Show on Sirius XM satellite radio Doctor Radio talking about Sports Medicine Issues . Dr. Jazrawi specializes in the surgical management of sports injuries and has substantial experience in the care of overhead athletes.





I provide patients with the highest quality medical care available, both surgical and nonsurgical. I treat people who have developed fractures, muscle tears, and sprains from overuse or trauma and athletes who have sports-related injuries.





As an orthopaedic surgeon, I am committed to researching and developing minimally invasive surgical techniques to shorten the recovery process. I also consider nonsurgical treatments whenever possible, including braces, physical therapy, and injectable biologics, which is a treatment that uses a person's own stem cells to relieve joint inflammation and pain. My goal is to help people resume their lives and return to their jobs or athletic activities.





At the Sports Medicine Center at NYU Langone's Center for Musculoskeletal Care , I collaborate with physiatrists, physical therapists, nutritionists, and sports psychologists to help athletes regain their strength, balance, and endurance skills. I also work with specialists at the Joint Preservation and Arthritis Center , where we focus on restoring joint function and delaying the onset of arthritis in people who enjoy active lifestyles.





My research focuses on surgical treatments of cartilage injuries and minimally invasive arthroscopic management of the shoulder, elbow, knee and ankle with the goal of shortening the length of recovery. Additionally, I lecture on orthopaedic surgery nationally and internationally and serve as the team physician for NYU and Long Island University athletics. I have been recognized by Castle Connolly's "Top Doctors" series for the New York Metro Area.