Dr. Alexander Golant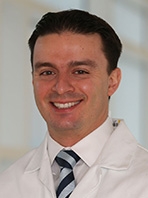 Work Location(s)
NewYork-Presbyterian Medical Group/Queens, Orthopedics and Sports Medicine Center
163-03 Horace Harding Expressway, 4th floor,
NewYork-Presbyterian/Queens, Department of Orthopedics and Rehabilitation
56-45 Main Street, 4th Floor,
About Dr. Alexander Golant

Dr. Golant is the Associate Director of Sports Medicine Services at NewYork-Presbyterian Queens, and an Assistant Professor of Clinical Orthopedic Surgery at Weill Cornell Medicine. He serves as a team physician for St. John's University Basketball and other sports, and also for a number of local high school and sports academy teams. He is also a member of the volunteer medical pool for the US Ski & Snowboard Association (USSA) and worked with the US Ski Jumping Team at the World Cup events in Austria inJanuary 2020.





Dr. Golant specializes in the treatment of knee and shoulder disorders, focusing on meniscus, cartilage, tendon and ligament repair and reconstruction, joint preservation surgery, as well as joint replacements. He serves on the editorial board of the Journal of Arthroscopy, on a number of committees in professional societies (AAOS and AANA), and directs orthopedic research at NewYork-Presbyterian/Queens hospital.





Dr. Golant is a native of Moscow, Russia. He grew up in Philadelphia, PA, and has been living in NYC since 2003. He is an avid skier, having raced competitively in college, and was a professional ski instructor. Currently, during the ski season, he volunteers his time on weekends as an assistant coach for a junior ski racing program at Camelback, PA. He is also a life-long martial arts practitioner, and continues to train in Jeet-Kune-Do and MMA today.